---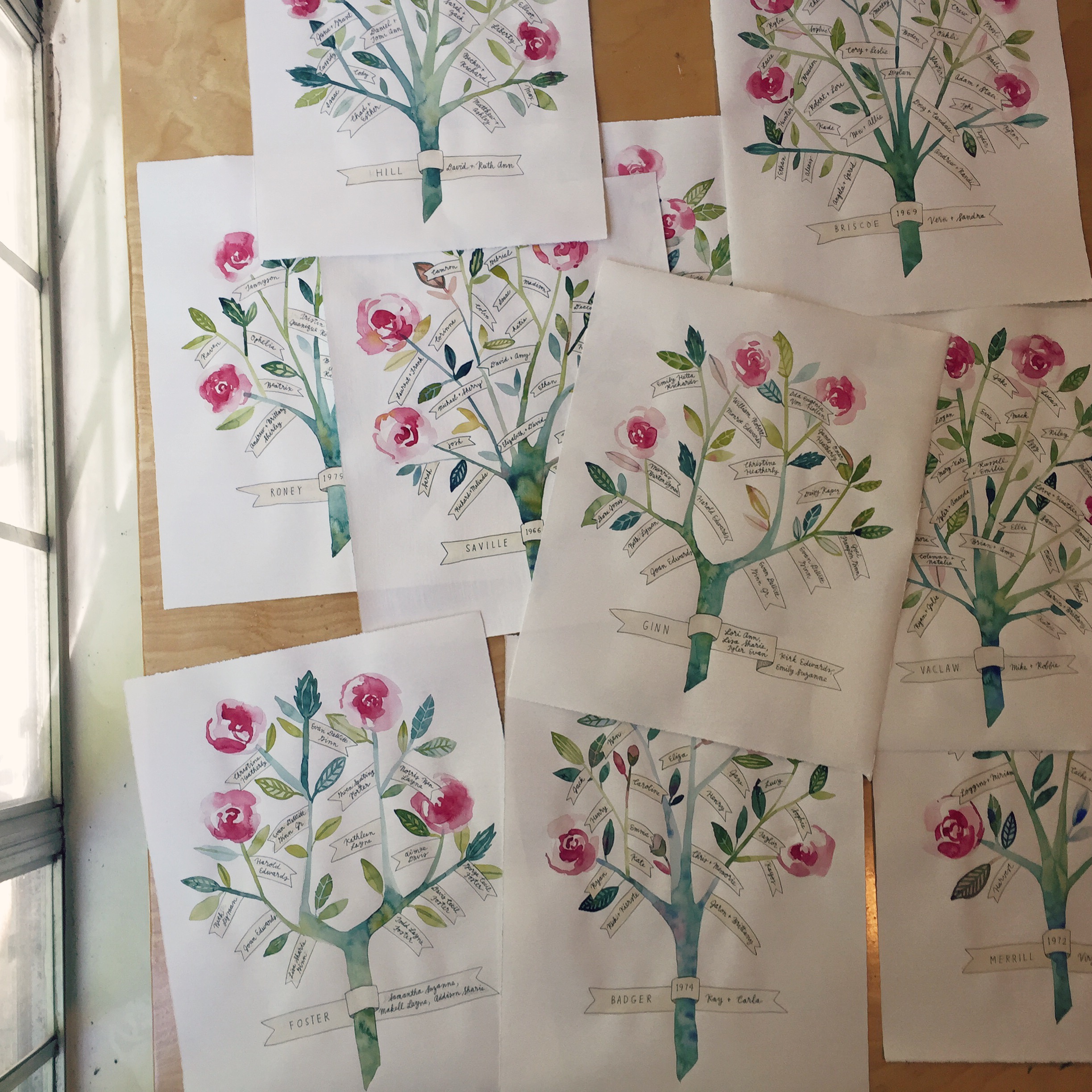 Family Pedigree Illustration: FAQ
How do I order a Family Pedigree Illustration?
All designs are available in our shop online. Follow us on Instagram for behind the scenes and sneak peeks of new designs.
How long does it take before I receive my order?
Please allow 4 weeks before your painting is shipped. Each illustration is designed and painted just for you!
Which names do I include?
Each illustration is custom designed which means you can include any combination of names that fits your family best. Fewer names will make for a less crowded tree. Many names will result in a very full tree. Some common combinations include:
first names only
first and middle names
first and last names (using maiden names)
Which way does the family tree go?
You can choose. Either start with a grandparent and go down through their posterity. Or start with a generation of kids and go back 4 generations.
Can I include birthdays?
Most often, yes. If you are planning to include 30 names, I would discourage it–there won't be room for that much information. Otherwise, I'm sure we can figure something out.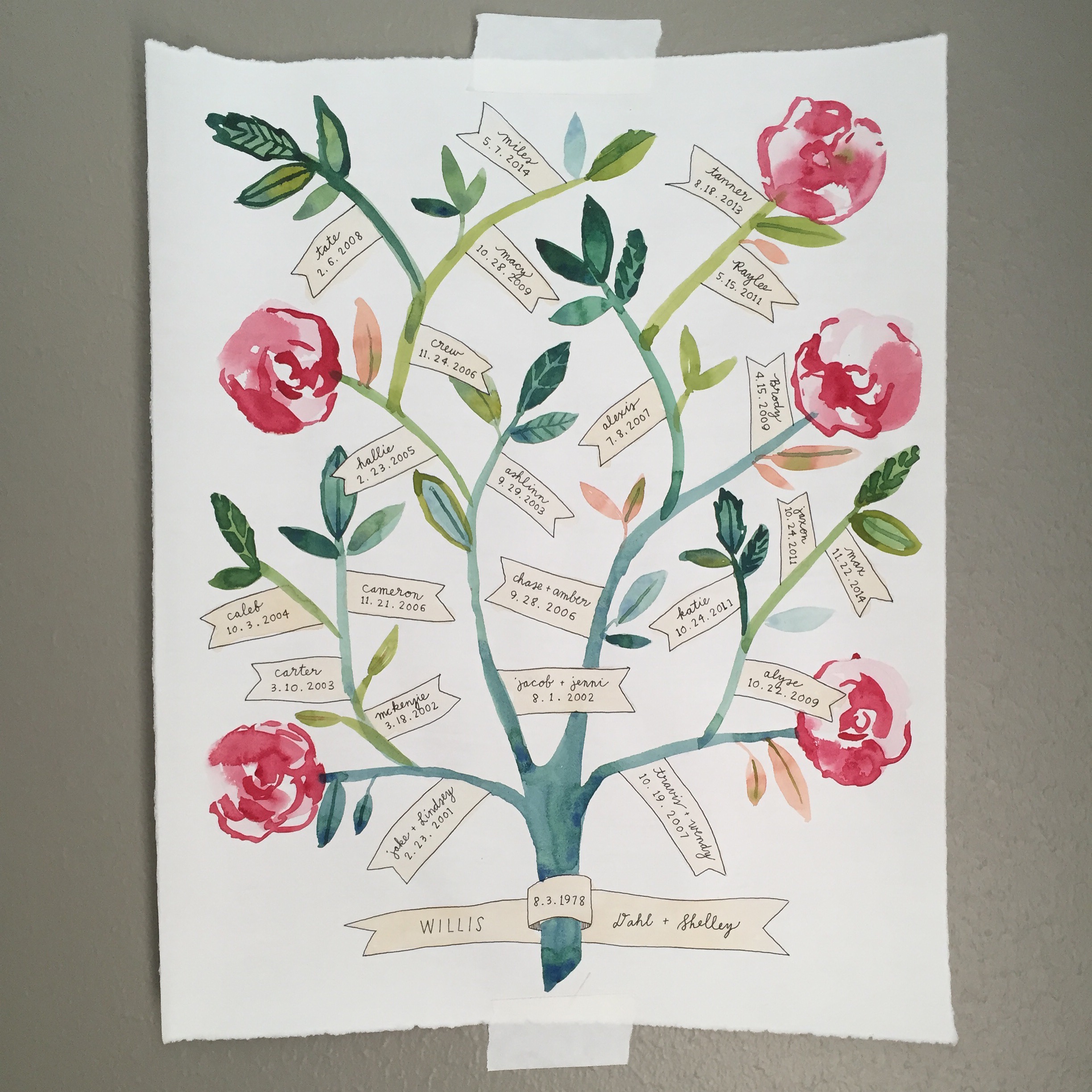 How many names can I include?
30-ish is the maximum for the 11″ by 14″ size. If you have a bigger project in mind, email me.
How do I get my names to you?
The best way, is to email them to me. I've created a worksheet to help you gather and organize the names, but you need to then type them up and email them to me. We have a submission form in the works… but until then, email it is.
I received my family tree in the mail and it's amazing but I noticed I misspelled a name. What are my options?
Oh, that is the worst feeling! You are not alone. Many times I can correct it without repainting the whole thing. Call me or email me and we can work it out.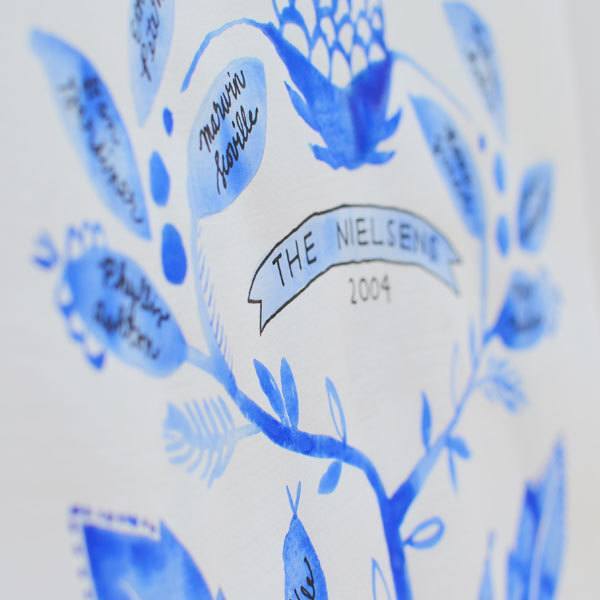 Why do you paint family trees anyway?
The idea started as a gift for my mother-in-law and has exploded. I'm a big believer in family sticking together through thick and thin. I love having a reminder in our home of the people who matter most to us–especially for my own children to have a visual reminder that they are part of something important.